Home Page -
Ministry
Request for prayer

--- Please pray that the Gospel presentation document "How To Get To Heaven" in various languages on this website would be readily accessed, effectively understood, and instrumentally used by the Lord to bring countless numbers of people around the world to salvation through faith in Jesus Christ.
_________________


An important coming reality:

--- Upon the start of the Great Tribulation, believers can lose their salvation. For details, see the document "End Times Speculations", which is located at the top of the 'Doctrines' web-page.
_________________


? Did you know that:
- - God has assigned all true believers to be functioning as "priests", doing ministry work in a church or ministry.
(For more information, see the document "1 Peter 2:5 - Assigned To Be Ministering In A Priestly Fraternity" in the ' 1 Peter' Sermon or Lesson Outlines web-page.)



Ms Tina's Ukulele Club:

Ms Tina has recorded videos (listed below) that are tutorial for teaching children (age 5 and up) how to play the ukulele. These videos each contain: a video feed of her instructing, demonstrating, and playing the ukulele; a chord fingering chart; a strumming pattern; and a song sheet with lyrics and chords listing. These videos are free, and are available on YouTube.
A screenshot sample: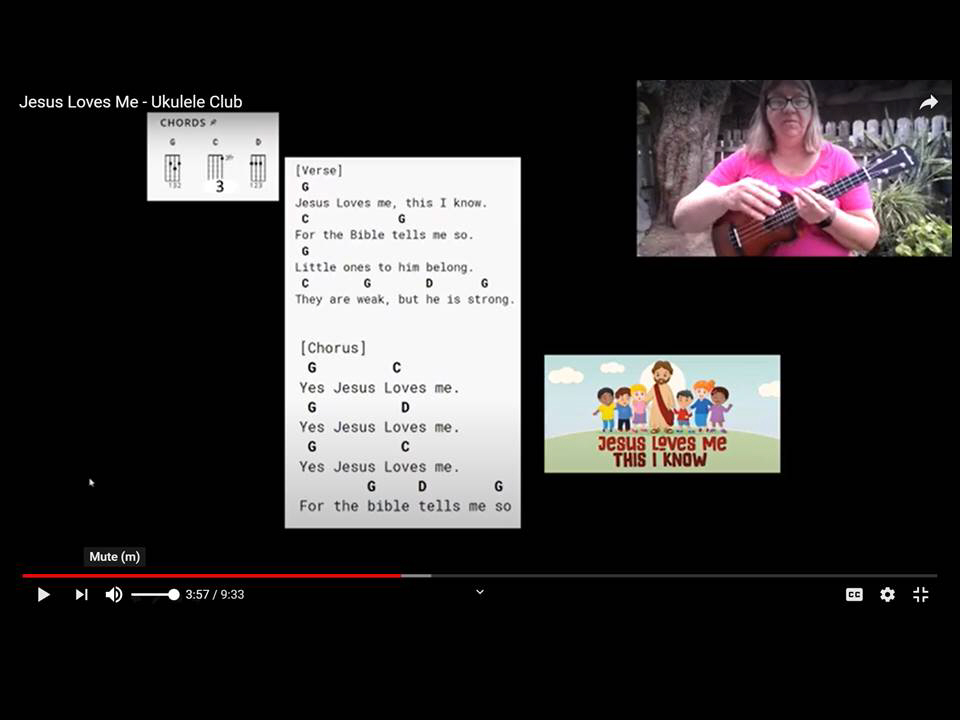 Ukulele Club Videos (available on YouTube) :
- - God Is So Good
- - Old McDonald Had A Farm
- - This Little Light Of Mine
- - Deep And Wide
- - Twinkle Twinkle Little Star
- - The B-I-B-L-E
- - Jesus Loves Me
- - Happy Birthday
- - Row Row Row Your Boat
To access these videos, right mouse click here, and then select in the pop-up menu "Open link in new tab" on your browser - to go to the menu page for these videos on YouTube. More videos like these will be added as they become available in the future.

The ultimate purpose for these tutorial videos is to introduce children to playing, singing, and performing songs, with the hope and the intention that one day in the future they will be members of a 'Praise And Worship Team' in a church or ministry.
Recursos de ministerio en español.
(Ministry resources in Spanish.)
Recursos do ministério em português.
(Ministry resources in Portuguese.)

"How To Get To Heaven" - in:
Afrikaans , Albanian , Amharic , Arabic , Armenian , Assamese , Aymara , Azerbaijani , Bambara , Basque , Belarusian , Bengali , Bhojpuri , Bosnian , Bulgarian , Catalan , Cebuano , Chichewa , Chinese , Croatian , Czech , Danish , Dogri , Dutch , English-adults , English-youths , English-HB , Estonian , Ewe , Finnish , French ,

Frisian-Western , Galician , Georgian , German , Greek , Guarani , Gujarati , Haitian-Creole , Hausa , Hebrew , Hindi , Hmong , Hungarian , Icelandic , Igbo , ilocano , Indonesian , Italian , Japanese , Javanese , Kannada , Kazakh , Khmer , Kinyarwanda , Konkani , Korean , Krio , Kurdish-Kurmanji , Kurdish-Sorani , Kyrgyz , Lao , Latvian , Lingala , Lithuanian , Luganda , Luxembourgish , Maithili , Malagasy , Malay , Malayalam , Maltese , Marathi , Mizo , Mongolian , Myanmar-Burmese , Nepali , Norwegian , Odia-Oriya , Oromo , Pashto , Persian , Polish , Portuguese , Punjabi , Quechua , Romanian , Russian , Samoan , Sepedi , Serbian , Sesotho , Shona , Sindhi , Sinhala , Slovak , Slovenian , Somali , Spanish , Sundanese , Swahili , Swedish , Tagalog , Tajik , Tamil , Tatar , Telugu , Thai , Tigrinya , Tsonga , Turkish , Turkmen , Twi , Ukrainian , Urdu , Uyghur , Uzbek , Vietnamese , Welsh , Xhosa , Yoruba , Zulu
What's New
(free downloads):

_______ December, 2022 _______

- - The new "Elder Training Series" is being added, and is located near the top of the "Home Page - Ministry" web-page.

_____ May - October, 2022 _____

- - The document, "How To Get To Heaven", has been added in many other languages, as listed in the above box. These translated documents enable you to share the gospel with people who speak one of these languages.

________ April, 2022 ________

- - New documents, that pertain to end-times events, have been added near the top of the 'Doctrines' web-page.
- - Replicate This Website Into Your Language:

I am hereby offering to grant permission to anyone who is interested, that you can translate my documents in this website into a foreign language, and then post them on the Internet.

I ask that you provide your translated documents for free download, and not sell them. However, you can provide a way for your website clients to extend a freewill monetary donation to you.

I ask that you take the time to translate each document as accurately as reasonably possible, and not pervert or adulterate the doctrines, concepts, and meanings of what I have written.

You can translate from the New International Version (NIV) the Scripture verses I use, thereby rendering no need to secure copyrights from the owners of any Scripture translations.

I may be able to raise some financial support for you, to cover some of your expenses in setting up, running, and adding documents to this kind of website.

You can structure the website just like mine, if you want.

I have already achieved translation of most of my documents into Spanish, which you can view to see how I therein replicated my (English) website into an additional parallel Spanish branch of my website.

And I gladly offer to help you set up your website, if I can. Or, you can work with me to add your translated documents as a parallel branch of my website, if feasible.
___________________________

- - Church-planting:
A primary reason why church-plants do not succeed is because God's people and/or God's servants fail or downright refuse to make the sacrifices that are necessary for the church-plant to sufficiently develop, progress, and come to viability and self-sustaining. Apparently, they fail to realize and/or accept the importance that church-planting plays in God's program to build His kingdom.

To substantiate these assertions from the Scriptures, and in brief:
- - - - since the time of Jesus Christ on this earth, the church is the main element in God's program (Matthew 16:18);
- - - - through the church, the gospel is preached to the world (Ephesians 3:4-10);
- - - - during the early time of the Apostle Paul's ministry to share the gospel with the Gentiles and plant churches among them, the Philippian church was the only church who had enough concern for him and his ministry work to therein send support to him, and repeatedly (Philippians 4:10 with verses 4:15-16 and verse 1:5).